You've Planned that Relaxing Getaway, Now Plan a Stress-Free Return
July 17, 2017

Categories: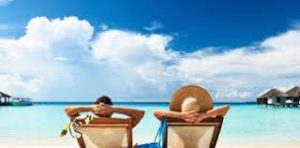 Vacations were made to relax and unwind – so the last thing you'll want to worry about is returning home to find a stressful situation. Mishaps such as a burst water pipe, a pest infestation, or a theft that occurred during your time away can rob you of any stress-relief that time provided. So preserve that vacation relaxation and make sure your return home is uneventful. Here are three things to think about before you leave to provide a stress-free vacation:
Water Damage: Leaks or burst pipes are especially troublesome during a vacation due to the length of time that water has to accrue structural, mold, and other damage while you're away. One of the main causes of water damage is due to homeowners leaving the home with washers or dishwashers running. This particularly unfortunate as it allows residue from harsh detergents to sit stagnant in the pipes for an extended period causing corrosion and leakage. Be sure these water-using appliances have run their cycle prior to your departure. The best way to avoid damage, however, is to cut off water sources to the home entirely by shutting off the main valve. There are also high-tech plumbing devices available that have automatic shut-off modes when they sense a leak. And of course, home monitoring applications can be helpful in allowing you to visually check the home to ensure there is no water damage.
Infestations:  Because those creepy crawlers multiply aggressively in summer's warmer weather, leaving the home for as little as a few days can be an an open invitation for unwanted guests to roam free and produce unabated! To prevent food-loving insects from chowing down on your dime, make sure there is no food left open or out. Put perishable foods in the refrigerator and ensure that any other food is sealed in a securely-closed container or bag. Be sure trash is emptied and garbage disposals run prior to leaving. Mosquitoes can also accumulate during a homeowner's absence so you'll want to be sure there is no place for them to congregate & multiply. Empty flower pots that fill with rainwater and/or cover swimming pools and any other standing water that make perfect breeding grounds for the blood-sucking pests.
Theft: Break-in are the number one worry of homeowners leaving for vacation so being sure your home is secure is imperative for your piece of mind. As simple as this sounds, checking that doors and windows are locked goes a long way in preventing theft. In fact, it is estimated that 33.9 percent of break-ins occur when burglars entered a home through a door or window that was left unlocked. If your home is entered, master bedrooms are prime targets for valuables – if you don't have a home safe, consider securing valuables in an area where your would normally not keep them. And again, new technology can play a key role in keeping your home safe with innovations that hook up to your smartphone. These not only deter thieves but can enable you to identify them with video monitoring.
Of course, even when the best-laid plans are made, the unexpected can happen. Luckily, you can still sidestep worry by making sure you're sufficiently protected with insurance coverage that is up-to-date and meets your needs. Review your insurance policy or policies to be sure that what could go wrong while you're away is covered. Call you insurance agent for recommendations or talk to one of our friendly agents for advice or a free, no obligation quote at 215-942-0616.