Wedding/Special Event Insurance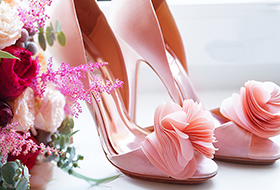 With so many things to worry about on your wedding day, one thing you won't want to worry about is losing money due to circumstances beyond your control. Whether it's a venue that goes bankrupt, a caterer that backs out, or even a bridal gown that is lost or damaged, these can be burdensome costs to bear in addition to an already costly day. That is why more couples are choosing to insure their wedding day.
Huntingdon Insurance offers wedding and special event protection plans which can help with a vast array of unexpected situations such as:
Cancellation or Postponement: In the event the venue goes out of business, or if a sudden illness prevents the honorees, parents, grandparents or children of honorees from attending, or if an honoree is unexpectedly called to duty, wedding insurance can help cover the cost of rescheduling and/or help recoup cancellation costs.
Wedding Attire: If a bridal gown and/or other event attire is lost or damaged, wedding insurance will handle the cost of replacing the attire.
Event Photographs & Video: Wedding insurance can provide coverage in the event your photographer's film is defective or photos are lost or damaged. For example, if your photographer fails to show up, or loses your photos from your wedding, this coverage can reimburse you for the cost of reconvening your wedding party to take new photos or video.
Lost Deposits: If a vendor goes out of business, declares bankruptcy before your event, or simply fails to show up, you'll be covered. For example, if your band or your limo provider fails to show up, this coverage can reimburse your lost deposit.
Additional Expenses: If you incur certain unexpected expenses in order to avoid a cancellation or postponement of your wedding, insurance can help recoup those losses. For example, if a caterer or transportation company suddenly becomes unavailable for your event and you can find a last minute replacement, this coverage can reimburse you for the difference in cost up to 25 percent of the original contract price.
Event Gifts: Having insurance can provide coverage if your gifts are damaged. For example, if your gifts are somehow damaged while on display at the event, this coverage can reimburse you for repair or replacement cost.
Jewelry:  If special jewelry purchased or rented for honorees on the event date is lost or damaged on the event date or within 7 days prior to the event date, wedding insurance will cover the cost.
You can also opt to have liability and/or liquor liability coverage:
Liability is an optional coverage that can provide coverage for bodily injury, property damage, and personal injuries to third parties at the location of your event. You also have the option to include liquor liability coverage, which protects you from alcohol related suits brought as a result of an intoxicated guest who was served alcohol at a wedding or special event you hosted.
Save Money NOW with Your Agent at Huntingdon Insurance 
Call (215) 942-0616 for a FREE No Obligation Quote or contact us via email at quotes@huntingdonins.com or use the convenient web form below for a FREE quote or to answer any questions you may have.