Home Maintenance Tips for Fall
September 15, 2017

Categories: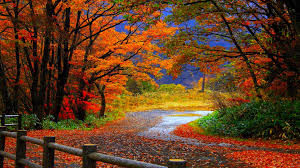 As the leaves begin to change colors, it brings to mind the popular saying "Autumn shows how beautiful it is to let things go". And while this may be true for Mother Nature, one thing you won't want to let go in the Autumn is home maintenance. In fact, Fall's weather is perfect for shoring up things around the home before winter's freezing temps set in. Here are just a few things to consider during the season as you enjoy the foliage that abounds:
Pack up the Patio
While you may extend the use of patio furniture into the fall/winter if you have a fire pit or outdoor heater, take inventory of items used for summer that can be stored until next season. Fall and Winter winds can blow unsecured items and cause damage to your home or property. Additionally, storing these pieces helps extend the life of the furniture as colder weather can be harsh on them.
Keep Pipes Cozy
Insulate water pipes that may be exposed to cold temperatures such as those in a garage. Turning up the thermostat can also be effective in keeping pipes from freezing. Remember to turn off the water supply to exterior faucets for the season to prevent them from bursting and causing potential damage.
Survey Safety Devices
Fall is a great time to perform an annual check up on smoke alarms and carbon monoxide detectors. Replace batteries yearly and test devices to ensure they are in working order. Go over plans with family members on what to do in the event of a fire or other emergency.
Get Those Home Fires Going
Have your fireplace and chimney cleaned and inspected by a licensed professional and make any necessary repairs. Be sure to clean or replace the furnace filter on your heating unit or have it cleaned and inspected by a certified professional.
Gut Those Gutters
Remove leaves and debris from gutters and ensure downspouts are clear, properly connected and directing rainwater away from the home. If using a ladder to clear gutters, be sure not to reach too far to the side as this is a leading cause of falls from ladders. And never stand on the top two steps of the ladder as it is easy to loose your balance. Consider hiring a professional if safety is an issue when cleaning the gutters.
Consider Your Coverage
While you're giving your home it's annual once-over, remember to take time to examine your coverage for any changes that may have occurred during the past year. Contact your insurance agent to see if you can save money on coverage you no longer need or if you need to add additional coverage.