Driving Tips for Severe Weather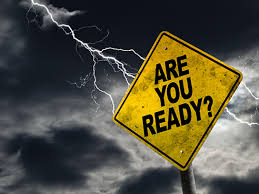 As Spring and Summer arrive, the warmer temperatures can also mean heavy rainfall, lightning and strong winds. If you're caught out on the roads in a storm, even the most experienced driver can find the elements challenging. Flash flooding and severe thunderstorms can pose real danger for drivers, but with a little preparation it's easy to ready when nature strikes.
Flash Floods
Flash floods can be the most treacherous form of flooding since it combines the catastrophic elements of water damage with swift and unpredictable moving currents. Flash floods happen when a storm causes water in creeks or river beds to rapidly rise in a short period of time often catching drivers unaware. The CDC reports that more than half of flood-related deaths occur when a vehicle is driven into flood waters. But here are some steps to take to stay safe during a flash flood:
– Do not attempt to drive through flooded areas or standing water – sometime it is difficult to tell how deep the water might be so it is best to turn around.
– If your car is stuck and it is possible to evacuate the vehicle, do so immediately and seek higher ground.
– Never attempt driving around a barricade, turn around if possible or abandon your vehicle if necessary.
Severe Thunderstorms
Severe thunderstorms are responsible for over $10 billion in auto-related damages in the U.S. What's more, thunderstorms can create dangerous conditions for those who are out on the roads. Here are some tips to keep safe in your car during a storm:
– Turn on headlights but set them to low beam.
– Stay inside your vehicle to keep protected from electrical bolts or downed wires and avoid contact with metal-conducting items.
– Listen to your radio to monitor conditions and warnings in your local area.
Finally be sure you're vehicle and your home are covered for severe weather by contacting your agent getting an insurance checkup! The friendly professionals at Huntingdon Insurance will be happy to speak with you about any insurance questions you may have. Call them today at 215-942-0616.