Don't Let Your Summer Gathering Go Up In Flames
July 25, 2018

Categories: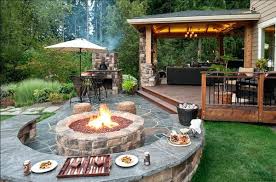 Summer is a great time for outdoor entertaining and nothing says summer more than gathering with friends for grilled food, an open fire, tiki torches and fireworks. But by their very nature, these items can be dangerous to family members and guests, especially children and pets. But they can be enjoyed if the proper care is taken. See these tips to enjoy backyard entertaining during the summer:
Grilling
– Ensure that children and pets are at least 3 ft from a grill when it is hot
– Keep the grill at least 10 feet from the home and clear from overhanging trees and other things that can ignite
– Never leave a grill unattended while you are cooking
– Regularly remove drip pans and clean grill of grease and fat that can easily catch fire
Fire Pits
– Whether your fire pit is permanent or portable, it's location is key to fire safety – be sure it is at least 10 feet away from any structure or neighboring yard
– Be sure there are no overhanging free branches near the fire pit and do not position a fire pit under a canopy, covered porch or awning
– Always have the fire pit on a non-flammable surface such as concrete or patio blocks. Fire pits should never be placed directly on a wooden deck or on grass
– Use a commercial fire starter stick with kindling on top is the best way to get your fire going. Do not use gasoline or lighter fluid to start or restart the fire
Tiki Torches
– As with grills and fire pits, be sure not to burn the torches near structures or overhanging branches
– Do not remove safety tags and/or labels from the torches and always read the manufacturers instructions as well as the safety labels and follow them carefully
– Instruct children not to play with the torches and establish a "safety zone" of 3 feet around the torches when in use
– Do not use water to put out a tiki torch on fire – water will spread the torch oil and can potentially create a more hazardous situation.
Fireworks
– The best way to enjoy fireworks is to leave it to the professionals but if you must indulge, be sure to keep pets inside and keep a close eye on children. Curiosity may compel them to step too close to the fireworks so be sure to both instruct and supervise little ones
– It may seem obvious, but avoid alcohol when operating fireworks as motor skills can be compromised leading to fires and/or injuries
– Read all instructions prior to lighting fireworks, even if they look the same as others you may have used
– Be sure to dispose of properly by soaking them in water to ensure they're fully wet and placing them in a metal trash can
Fire Extinguishers
– Be sure to have a fire extinguisher readily available and review the instructions for use
– Keep the fire extinguisher in close proximity to the areas where grills, fire pits and/or tiki torches are in use
– It is a good idea to securely mount the fire extinguisher to prevent it from being knocked over or moved
– Make sure the extinguisher is charged and operational