7 Tips to Sell Your Boat Fast!
March 17, 2017

Categories: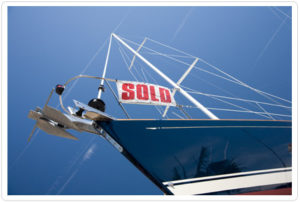 So the boat you own has "run its course" and you're eyeing up that newer model you've seen at the latest boat show. If you want to make that new model this year's reality, you will need to sell your existing vessel fast. And making sure you get top dollar will go a long way in purchasing that new "dream boat". With that in mind, here are some tips to help you sell quickly and get the most for your watercraft:
Clear Clutter: A boat with heaps of personal items scattered throughout will make the vessel appear smaller to the buyer (and keep them from visualizing the boat as theirs). Be sure to clear away clutter so all the prospect can see is a spacious boat with plenty of stowage where they can "move right in".
Attend to Details: Consider having a professional detail job – you can easily recoup the money spent in the sale price so it's well worth it. If you decide not to opt for the professional job, be sure to at least address any conspicuous exterior flaws and give the interior a decent once-over. Air out cabins if they seem musty and/or use fabric/air fresheners as needed.
Advertise: Don't be shy about utilizing multiple ways of marketing your boat. Take advantage of both online and print ads. Remember to include photos – buyers respond to visuals so ads with photos will attract more traffic.
Warm Up:  Take time to warm the engine up prior to your prospect's appointment. This will help side step any issues with the battery or a slow start up which can be a disincentive for a buyer.
Limit Trial People: Less people means less distraction from the enjoyment and handling of the boat. It also means less weight allowing the boat to maneuver more nimbly on the test run, so try to limit the number of people going on the "test drive" as much as possible.
Prepare Paperwork:  Having all documents on your end completed and ready to go such as warranty, service records, title, and registration will get buyers to "yes" more quickly and with less effort.
Do you have questions about boat insurance? Call the friendly professionals at Huntingdon Insurance Group at (215) 942-0616.