5 Great Reasons to Have RV Insurance
March 11, 2016

Categories: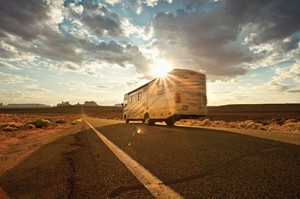 Setting out in an RV is a fun, adventurous, and all-American way to relax and visit scenic places without the hassle of booking hotels or worrying about transportation arrangements. For some, RVing is the only way to travel. But in a motor home, things such as stoves, ovens, refrigerators and bathroom facilities – all moving at speeds of up to 55mph (or more) – makes the number of things that can potentially go wrong exponential. If you're like most people, you might be tempted to think your auto and/or homeowners insurance will cover losses associated with an RV. However, your RV is special and requires special insurance to fully cover the vehicle and it's contents. Here are 5 major reasons to have RV insurance before hitting the road. It covers:
Items needed for living in the vehicle, such as refrigerators, stoves, bathroom equipment, etc. and losses due to their use, such as fire/water damage.
Accessories attached to the motorhome such as awnings, satellite dishes/antennas, roof-top air conditioning systems, etc. that are not covered under auto or home insurance policies.
Valuables and personal items you take with you, such as jewelry, clothes, and electronics which would not be included in a typical homeowners policy. RV insurance covers these personal belongings you have with you when you're on the road.
Hotel and/or other travel or lodging expenses in the event your vehicle is damaged or breaks down. The insurance can also cover towing if the damage prevents your RV from being mobile.
Liability coverage, to protect traveling companions and/or guard against liability due to accidents or injuries occurring in or around where your RV is parked at a campsite.
For more information on motorhome insurance or for a FREE quote visit our website at www.huntingdonins.com/motorhome or call the friendly professionals at Huntingdon Insurance at (215) 942-0616.